Pressure relief valve (freezer)
Cold rooms are essential for commercial environments where regular refrigeration no longer provides enough storage space for anything that needs to be kept chilled or frozen.

Digital System Controls
Compact and smart looking Dual/Single room controls with no exposed wiring and with temperature alarm. Controls come with optional feature of remote temperature monitoring and controls.

Flush Mount Refrigeration Package
This new design element eliminated the space occupied earlier by an evaporator and allowed for the entire interior to be used for storage.

Baro-Flex® Swing Doors
"The third-generation doors have drastically improved. They are recessed and have an automatic self-closing feature with triple self-raise hinges. This recessed door frame design, coupled with the automatic closer, significantly reduces thermal leaks and lowers energy and service costs. The ergonomic door handle is designed to be pulled as the door does not need to latch or lock. Essentially, there is no need to handle the door when closing."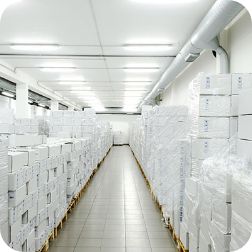 LongWall® Panel
The third generation panel is uniquely designed to offer great value with no additional cost and great saving in energy. The new standard overlapping joint design helped achieve higher thermal insulation and increased aesthetic value and hygiene as there is no need to finish joints with silicon with virtual absence of seams between panels.

Monolith Coving
Hygienic Angle bar coving system that facilitate cleaning and reduces the accumulation of dirt.